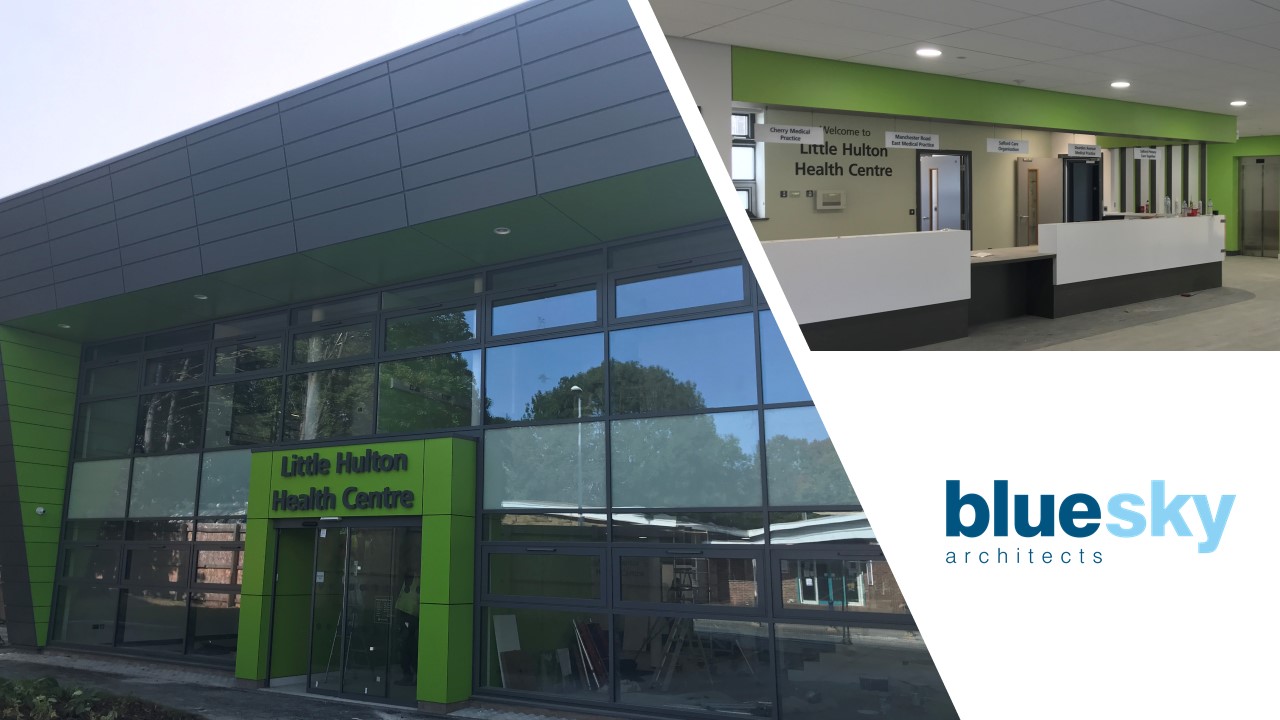 Little Hulton Health Centre is now open
October 12, 2020
Bluesky Design Services designed the new state-of-the-art Health Centre in the heart of Little Hulton, Salford. We worked in collaboration with Salford Clinical Commissioning Group (CCG), Salford Primary Care Together (SPCT), Manchester Road East Surgery, Dearden Avenue Medical Practice and Cherry Medical Centre on this project.
Our £4.6m BREEAM Excellence design for the Little Hulton Health Centre was completed in September 2020 and is now fully functional. The facility consists of 18 contemporary consulting and interview rooms, 5 modern treatment and community group rooms, administration spaces and a car park offering plentiful spaces for all customers.
The site hosts services such as Podiatry, District Nurse appointments, Mental Health services and a serves as base for local services for community Midwives and Children's Health. The new Health Centre will allow healthcare provisions to expand to meet the increased demands within the local community.
Alison Quinn, Director said: "It is great to see our design for Little Hulton Health Centre in Salford come to life. Over the past 15 years Bluesky have successfully delivered over 40 health care schemes, which range from new build designs of large community based primary care facilities and acute hospitals as well as mixed use wellbeing centres through to refurbishment and remodelling of small GP practices. Our healthcare planning design skills and expertise ensures each scheme delivers flexible, clinically appropriate, service specific healthcare facilities that work for both staff and patients."
Bluesky Design Services are on the NHS Business Services Consultants Framework for architectural design and can provide you with easy direct appointments to save you time and money as we are already fully procurement cleared.
Get in touch with the team today to discuss how we can add value to any bid or project team:
Email: enquiries@blueskydesignservices.co.uk
Tel: 0161 831 9722
#CreativeDesignSolutions #Architecture #ProcurementCleared #NHS