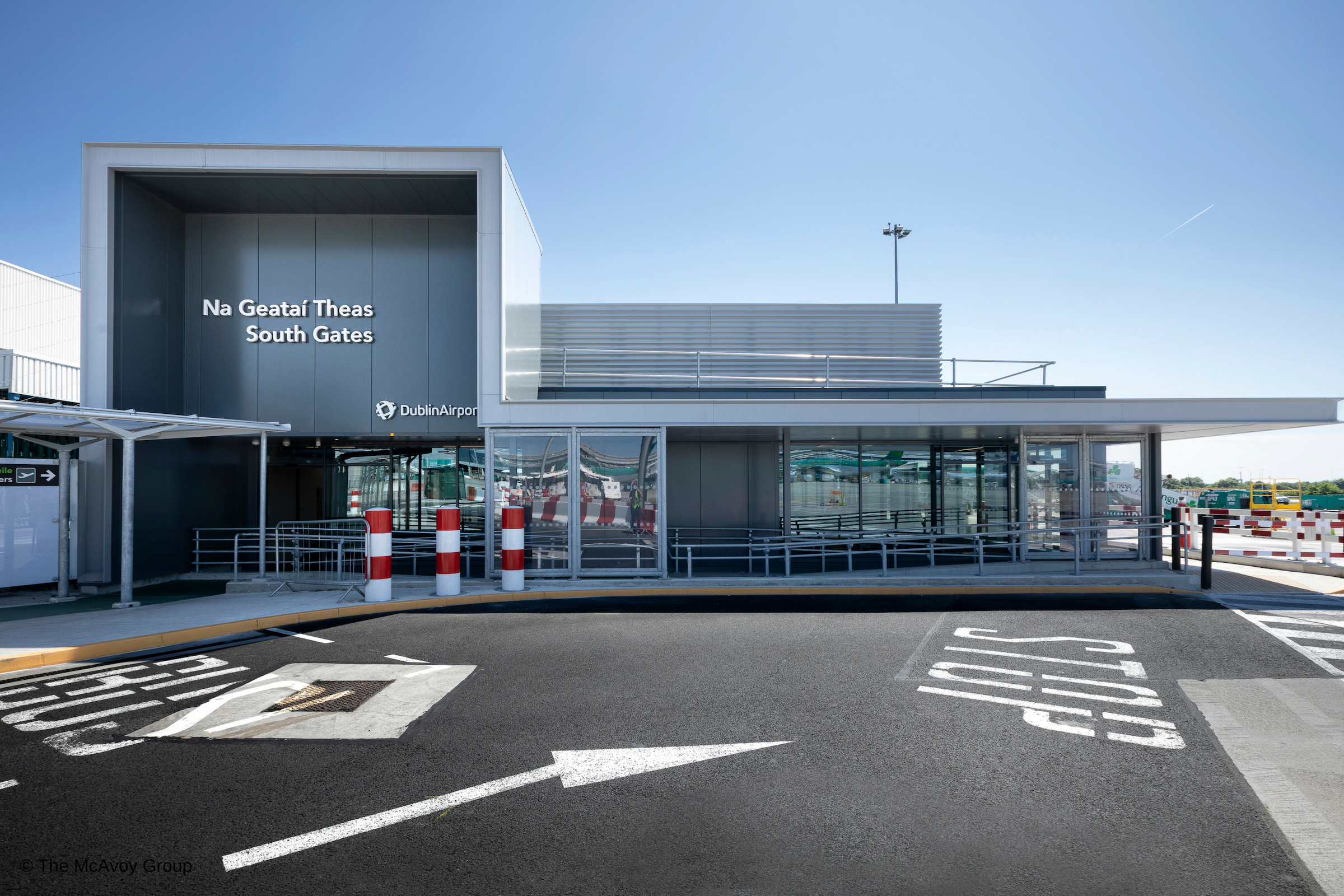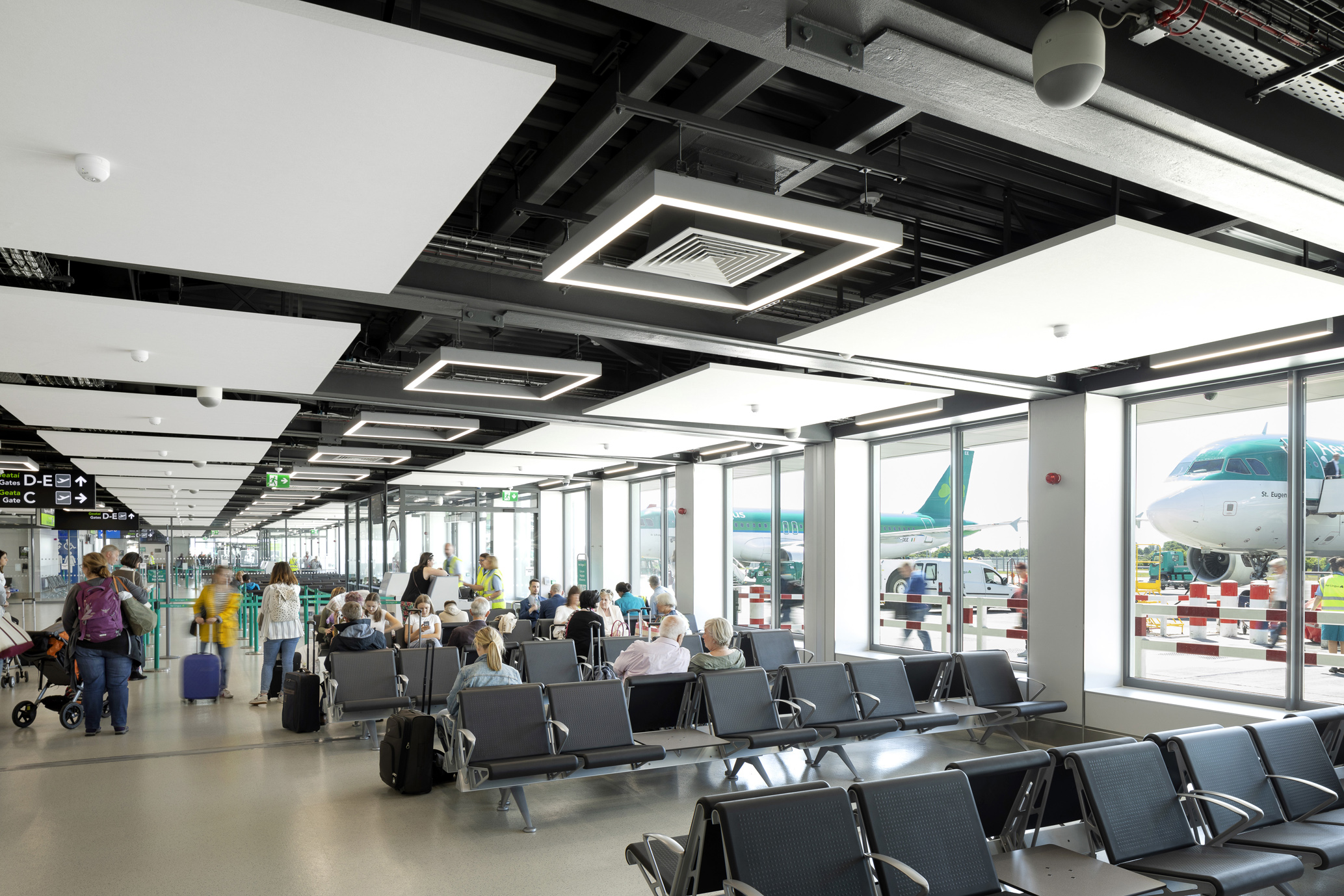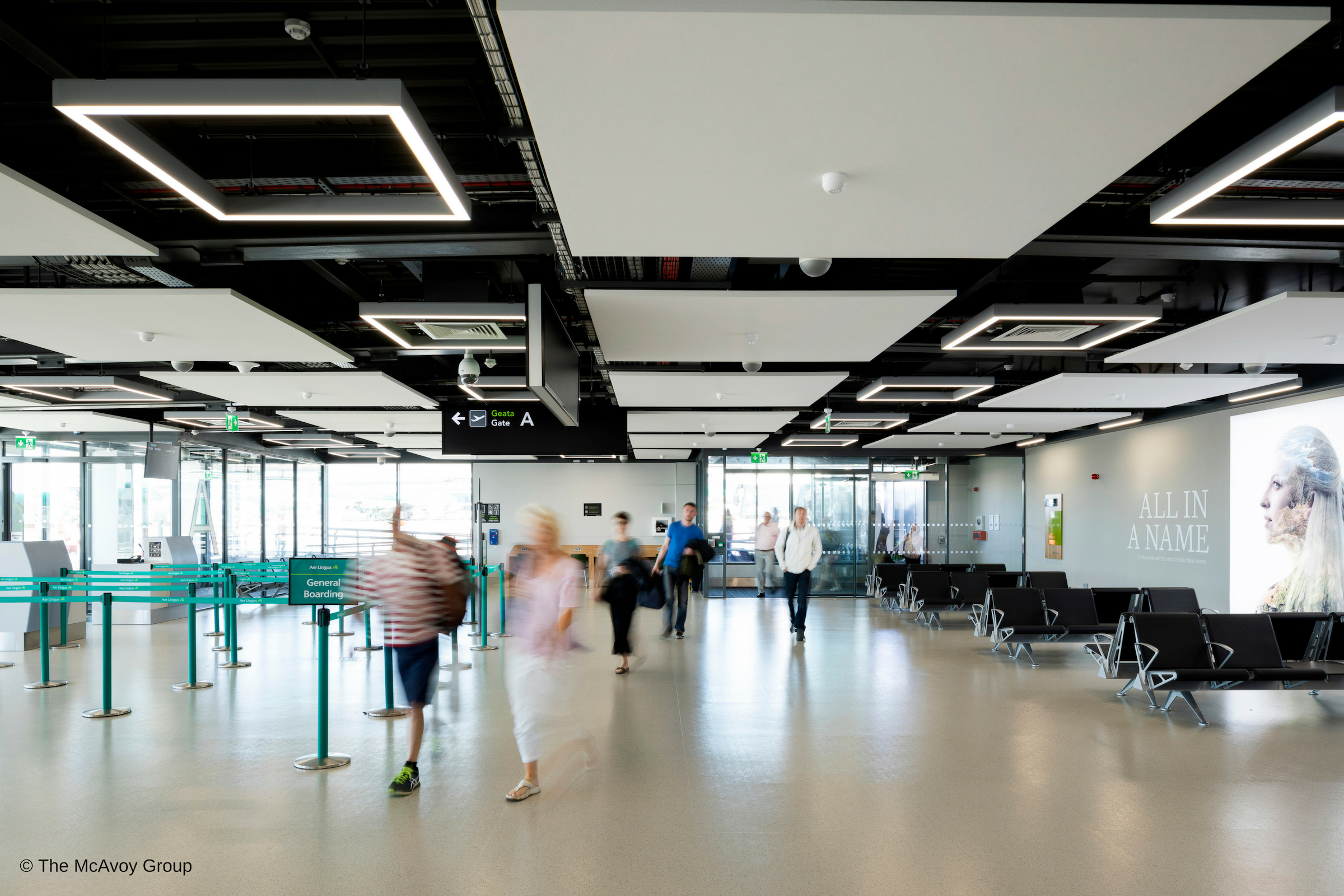 Dublin Airport
South Gates Terminal
Dublin Airport Passenger Boarding Zone
Lead Client: Dublin Airport Authority
Project Client / Principal Contractor:  The McAvoy Group
Services:  Project Architect, M&E Engineers, Environmental Consultants
The new passenger facility at Dublin airport is now up and running. The scheme is thought to be the largest single span modular scheme in the UK and Ireland.
Appointed by the Principal Contractor, The McAvoy Group, Bluesky acted as project architect on the scheme, working with The McAvoy Group to develop a design solution that could meet the demands of a complicated brief. Bluesky also provided M&E design services and environmental consultancy services.
The scheme was developed to meet the huge growth in passenger numbers at Dublin airport and will be used mainly by Aer Lingus for flights to the UK and continental Europe. The building provides seven new boarding gates to serve nine aircraft stands and is designed to accommodate around 8000 passengers a day.
The building, which is around 120m long, has the flexibility to accommodate departing flights in the busy early morning period and flight arrivals in the evening. It can also be segregated so around 1,000 departing and arriving passengers can be processed at the same time.  Facilities include boarding gates, a café, toilets, baby changing and a workstation area with plugs and charging points.
The Dublin Airport scheme was designed to meet stringent fire safety regulations that exceeded Building Regulations. All mechanical and electrical services – including data communications, fire and security – had to link into the existing live airport terminal systems, which was a hugely complex operation. A specially designed ceiling solution provides a high standard of acoustics and its chequerboard appearance has created a strong visual feature.
Externally, the highly glazed building is finished in two shades of anthracite grey aluminium cladding to complement the other passenger terminals. A screen of grey louvres wraps around the roof to conceal services and the plant rooms.
McAvoy has been shortlisted for two industry awards for the Dublin Airport project and its innovative use of BIM and virtual reality.
Speaking about the project Chris Russell, Managing Director of Blue Sky Design Services reflects on the project design challenges and how a strong client, project and design team were vital to the success of this project;
'This project broke ground on the use of offsite construction in such a large clear span building. Combined with the stringent building regulations and airside security considerations, the client, contractor and design team collaborated effectively to deliver this high-quality project. Effective use of BIM is core to how the construction and architectural teams ensured that all aspects of the design were coordinated efficiently and kept pace with this rapid programme. '
More details about this scheme, the project challenges and testimonials from those involved in this project are available on The McAvoy Group's website
https://www.mcavoygroup.com/newcasestudies/dublin-airport-passenger-boarding-zone/
Images copyright and courtesy of The McAvoy Group